Obsidian Networks
At Obsidian Networks, technology is our passion. We provide IT support, cyber security solutions, cloud services, and communication services in an all-inclusive model that's designed with your specific needs and requirements in mind.
Obsidian Networks officially started as a business in 2012, but we've been working in the IT industry since 2004. Our cyber essentials certified experts have a wealth of experience across many areas of IT. We've worked with businesses throughout the UK and across multiple sectors, including solicitors and law firms, schools, retail outfits, marketing agencies, web designers and charities.
We're based at our head offices in Chester where our team of engineers are on hand to help with your problem, however great or small. Visit our IT Support Chester page to see how we can help businesses in our local area, or if you're further afield, visit our Fully Managed IT Support page for our UK wide services. Book a free 15 minute consultation to see if we're the right fit for your business.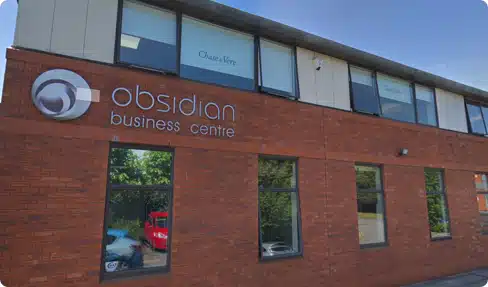 At Obsidian Networks, we're passionate about IT and love getting to know your business to effectively assess the best way to offer our support. We aim to be as proactive as possible, not only being there when something goes wrong, but working on your systems around the clock to prevent issues in the first place. IT is the backbone of your business, and we believe that every business should see their IT bringing increased profits, less downtime, and greater productivity instead of working against you. That's why our range of cost-effective solutions are designed to keep your business safe, up and running, and performing in a way that ensures you can focus on running your business.
How To Find Us
Phone

Offices

Obsidian Networks Ltd, Unit 4, Bretton Hall Offices, Chester Road, Bretton, Chester, CH4 0DF
We're based just off the A483 on the outskirts of Chester, which perfectly positions our engineers for in-person IT support around Chester, Stoke-on-Trent, Wrexham, Liverpool, and Manchester. For more information about our local services, visit our IT Support Chester page.
If you're not in one of these areas, don't fret! We cover the whole of the UK with our IT Support, Cyber Security, Communications, and Cloud Services solutions. Whether it's in person or remote, you won't find a more highly skilled, proactive IT partner anywhere else.
Why Choose Us?
At Obsidian Networks, we have a wealth of knowledge and experience spanning over 19 years. We put that expertise to good use by combining it with friendly 24/7 customer support, so that you feel comfortable contacting us with any issue no matter how large or small. We'll never turn our noses up at any request so that you can get instant assistance to keep your day running smoothly. Essentially, we act as an extension of your own business!
Support For Any Industry:

Our team have worked with a wide range of industries including solicitors, accounts, schools, law firms, web design agencies, charities, retailers and more.

Happy To Help:

We love supporting you and your business. There's no such thing as a bad question, and we'll always be on hand to help with anything you need.

Cost-effective:

Our solutions are designed to be cost-effective and to assist your business in bringing increased profits, greater efficiency, and less downtime.

Customer First:

Your journey is our main priority. We'll regularly meet with you to be proactive in improving your IT systems and processes.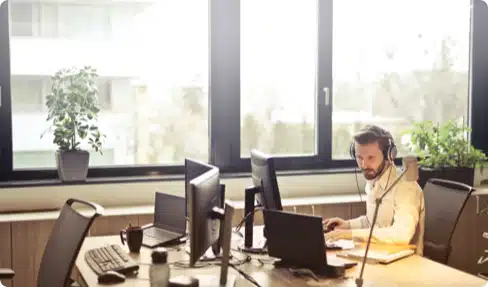 What Do Our Clients Think?
Since we first started using Obsidian Networks 5 years ago we have found them to be an excellent support company. They have helped us through several business changes and have been pro-active in suggesting improvements to our systems that have helped us grow. There is always somebody available to take our queries, and all issues are dealt with promptly. We rely on their expertise in giving us a first class service, and I would happily recommend them
Dan - Topping Partnership
Having been a customer for nearly 10 years, nothing is too much work for Obsidian Networks or their staff. They have moved our business forward throughout the years installing and maintaining servers, email servers, office moves, web growth and in-store growth with their technical ability. Obsidian Networks' training on new products is outstanding but most importantly for us is that Obsidian Networks prices are very, very competitive. They have moved our business forward throughout the years installing and maintaining servers, email servers, office moves, web growth and in-store growth with their technical ability.
Matt - Tessuti
During the last ten years we have always chosen Obsidian Networks as our hosting service provider. Always reliable, personable and efficient, Obsidian Networks are great people to do business with.
Richard - Rockart Agency
Book Your Free 15-Minute Video Consultation
To book your free video consultation, book a time on our Calendly form, visit our Contact Us page, or get in touch using the contact form in the button below.
Let's Get Started!