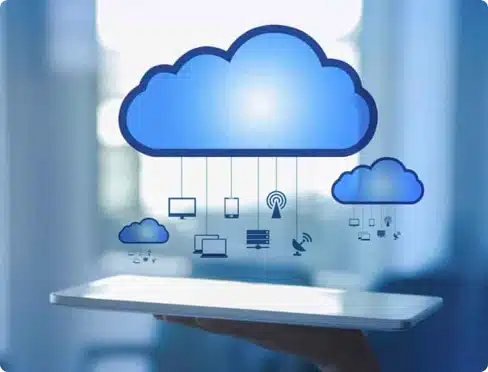 What Are Cloud Services?
Obsidian Networks offers a truly unique, tailored approach to cloud hosting. With a range of public and private cloud servers to suit any size of business – whether you're a budding startup, an international enterprise, or public sector organisation.
 Utilise high-performance, reliable, enterprise-grade tech

 Scale and adapt any solution to meet your exact requirements

 Optimise IT budgets with custom configurations and no hidden charges

 Take advantage of automated setup, expert management and maintenance, and outstanding tech support
What Are the Benefits of Cloud Services?
Flexibility
Cloud solutions allow you to access your data anywhere and on any device, allowing maximum flexibility to you and your employees. In the event of a power cut or similar issue, you can simply continue as normal from another location.

Security
Because your data will be stored in our centralised backup system, cloud services will also remove the risk of holding your own backups on site. Data encryption and two-factor authentication offers greater privacy and security than traditional servers.

Scalability
Cloud computing lets you have an elastic business model, delivering the right amount of IT resources for each stage of your business growth. This can increase whenever you have need and won't restrict your company's growth.

Performance
Our highly trained, in-house solutions experts design and build all our clients' solutions from scratch. This ensures that your systems are running perfectly for your business and performing exactly how you need them to.
No capEx
Cloud hosting eliminates the need for hefty upfront investment in hardware and software that takes hours to set up and even more to maintain. It also makes financial predictions simpler with a fixed monthly cost. 

Environmentally Friendly
Using the cloud is greener than traditional servers. In fact, businesses could reduce their energy consumption by up to 90% by switching from traditional in-house servers to a cloud-based system.
What's Included in Managed Cloud Services?
Our cloud services includes a wide range of hosting options, including hosted services, web hosting services, and email services. Although our cloud-based services are more efficient than traditional servers, it's inevitable that the occasional issue might occur. That's why you'll also have access to our 24/7 support line for any issues that might arise. See our full list of managed cloud services below:
Web Hosting Services
Software and Application Hosting
Email Services
Hosted Exchange Mailboxes
Hosted Email (IMAP / POP) Mailboxes
Spam and Malware Filtering
Looking for a More Bespoke Solution for Your Business?
We understand that businesses may have IT systems and services that are unusual or different and require a tailor-made solution. Why not book in an IT strategy meeting to allow us to gain an understanding of these?
Do I Need Cloud Services?
No matter how large or small your business is, transitioning to cloud services will provide a wealth of benefits. Many large organisations use cloud services due to the cost associated with running traditional servers and the flexibility cloud servers provide multiple-branch businesses. 
Many new small businesses are also opting to go down the cloud services route. This is because it provides a much smaller start up cost when compared to purchasing in-house servers, and much more flexibility and scalability to allow your business to grow.
Whether you're selling clothes or building cars, cloud services benefit businesses from almost any sector. While the benefits that the cloud will bring depends on the industry, we've listed some of the top sectors that will benefit from cloud services the most.
Manufacturing

Logistics & Supply Chain

Construction

Telecommunications

Automotive

Banking

Financial Services

Retail

Legal

Healthcare
Cloud Services With Obsidian Networks
Here at Obsidian Networks, our passion is IT. We work night and day to ensure that our clients get all the support they need for their business to thrive. That's why we offer 24/7 support with our carefully created packages.
Why not check out our cyber security services to see how we can protect your business from unknown threats? Or, visit our managed IT support page to find out about our full service, proactive IT support.
If you have any questions, feel free to get in touch with our team of friendly experts today.
Let's Get Started!

Strategy Meeting

At this strategy meeting, we will gain an understanding of your IT systems and show you how these could lead you to a Ransomware breach which may result in significant downtime and data loss.

IT System Proposal

We will send you an IT Support and Cybersecurity proposal detailing how we can protect you and your business.

Let's get started!

Once you are happy to sign up with us, one of our dedicated account managers will walk you through our digital on-boarding process.