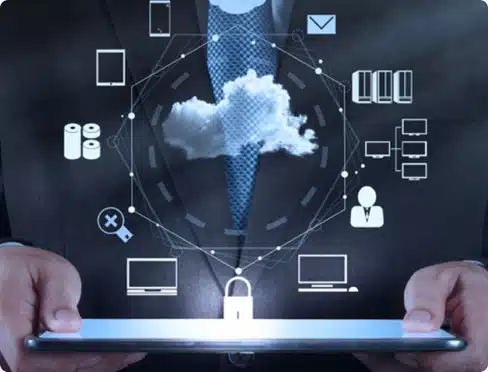 How Can Managed IT Support Help?
All of our clients want the same three things from their IT support services. That's why we've built our business based on these three core values:
Reliable, friendly, and fast IT Support

Minimal downtime

Systems that do what you need, when you need
Our approachable, friendly, and expert support team are here to help. We'll hold your hand through every issue that you have, whether it's a full system failure or simply a keyboard and mouse that won't work.
We will never make you feel awkward or uncomfortable even with the most basic of IT issues. We understand how these issues can affect both yourself, your business, and your employees.
What Does Fully Managed IT Support Include?
Our wide range of IT support services are designed to keep your technology running smoothly so that you're able to focus on your business without interruptions. We'll also protect you from security threats and complete regular data backups so that you can rest easy knowing that your business is safe.
Proactive IT Support
Our all-inclusive, fully managed IT Support ensures that your business is in safe hands, allowing you to focus on your business while we ensure that your technology works for you at all times.
What's Included?
Unlimited IT support – Both onsite and remote

24/7 support

Microsoft Windows, MacOS, Servers (Microsoft and Linux), Virtual Servers, NAS and SAN's

Network Infrastructure – Full onsite and remote support

Proactive maintenance of all IT infrastructure

Hardware purchasing and leasing options

Technical support for all technology with 3rd party providers

Fully Managed Services
No matter what the challenge, we are here to complete any tasks required. Our experts are on hand with expertise in every area, providing you with a wealth of knowledge to streamline your IT systems and processes.
What's Included?
Office 365 installation, migration and support

IT security services

IT consultancy

Mailbox and data migrations

Hosted solutions

Internet and telephony installation, migration and support

Network cable and IT infrastructure installation, maintenance and support

IT Helpdesk
Our IT helpdesk has engineers that can meet any needs and requirements that you or your business has. We aim to resolve your issue right there on the call, minimising your downtime. If it's a more complicated issue, we'll provide timescales and stay in touch with updates until it's resolved.
What's Included?
Dedicated ticket numbers for each issue

Hardware audits and asset management

Staff on-boarding and off-boarding

IT documentation and policies for your business

System Management and Monitoring
Our proactive, fully managed IT Support is just what you need to ensure your business can react to IT issues before they even happen. This minimises downtime, saves you money, mitigates risks, and keeps your business running smoothly.
What's Included?
24/7 system monitoring and diagnosis

Windows patch updating

Windows security updating

System error monitoring and auto resolution 

3rd party software install, updating and patching

Backup and Recovery
While we take every possible precaution to protect your data, it's impossible to completely stop all threats. If a system fails or you're hit with a ransomware attack, sometimes the only option is to restore from a backup. Our backup and recovery service ensures that you're always covered, even if the worst happens.
What's Included?
Automated hourly, daily, weekly, or monthly backups

Encrypted offsite backups

Monitoring and integrity testing

Regular testing and restoring
Looking for a More Bespoke Solution for Your Business?
We understand that businesses may have IT systems and services that are unusual or different and therefore require a tailor-made solution.
Our fully managed IT support strategy meeting will allow us to gain an understanding of these.
Fully Managed IT Support With Obsidian Networks
At Obsidian Networks, we work with businesses from a wide range of industries to provide 24/7 managed IT support. Visit our cloud services and managed cyber security pages for more information on how we can help you and your business.
If you're in need of an IT support partner to help you grow, our cyber essentials certified experts have been working in the industry since 2004, and our team ranges from friendly custom support to experienced communications engineers.
Our head offices have been based in Chester since 2012. If your business is in the Chester, Wrexham, Manchester, or Liverpool areas, visit our IT support Chester page for more information. Alternatively, if you're further afield, get in touch with a member of our team today or fill out the form below to find out how we can help your business grow.
Let's Get Started!

Strategy Meeting

At this strategy meeting, we will gain an understanding of your IT systems and show you how these could lead you to a Ransomware breach which may result in significant downtime and data loss.

IT System Proposal

We will send you an IT Support and Cybersecurity proposal detailing how we can protect you and your business.

Let's get started!

Once you are happy to sign up with us, one of our dedicated account managers will walk you through our digital on-boarding process.
FAQs
What Is Fully Managed IT Support Services?
Fully managed IT Support offers a wide range of remote support that goes above and beyond simply providing advice on technical issues. This includes extra responsibilities from on demand support to 24/7 security monitoring. Managed IT support services include:
What Is the Difference Between Fully Managed IT Support and IT Support?
Traditional IT support is usually a reactive role, fixing issues that pop up as they occur, and acts as a helpline for you to get advice from to fix the problem.  Fully managed IT support is considered 'always on' and supports your business with care and maintenance of all your IT systems to prevent issues, as well as reactive support if an issue occurs. 
Fully managed IT support services have the benefit of a wider expert team to draw information from and keep you running. This reduces training and upskilling costs associated with an in-house 'reactive' IT support.
Can Managed Services Reduce Total IT Cost?
Yes, our fully managed IT support services can absolutely reduce your total IT cost through a number of ways. While the cost of the monthly invoice that you pay to your IT support provider might increase, this will be offset through a number of savings that you receive as a result. These include:
Reduce Hardware Costs
Hardware can be one of the most expensive parts of your IT system that not only costs money, but time too. Switching to fully managed IT support can reduce the quantity and cost of your hardware by using the service provider's resources. This can include data centres, servers, and storage. Not only will you save on the actual cost of the hardware, you'll save on the energy it costs to run it all too!
Taxes
While capital expenditures such as purchasing hardware systems are tax deductible, they're subject to depreciation and the amount that's allowed will shrink each year. By paying for fully managed IT services, your IT costs will be counted as operational costs which are subject to depreciation. This means that you can continue to use the full amount of tax deductible each year.
Increased Efficiency
By having a service provider keep your technology up to date, you'll find greater efficiency across the workplace when compared to those old systems that your employees are complaining about. Not only will the speed of their work increase, but you'll also find less downtime with an expert team providing their knowledge in the background.
Improved Budgeting
Paying a set monthly invoice to cover all of your IT needs makes it much easier to forecast your annual budgets when compared to running everything on your own. This will free up funds that you wouldn't normally feel safe using, as well as stop any nasty surprise costs.